Mission Campus Application
BECOME A MISSION CAMPUS DIRECTOR
Host A Mission Campus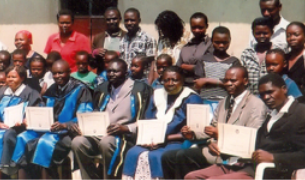 If God is calling you to oversee a KLU campus to train and equip Nationals for evangelism, church planting and discipling your naton, apply to become a Mission Campus director in your nation. To raise up as many laborers as possible for the Harvest, multiple National Directors are appointed in each nation
KLU does not fund purchase of land, building programs, pay salaries, classroom rent, printing costs, room or board for students, graduation events or any other costs in operating a satellite campus. We are a faith based ministry.
Prayerfully consider your decision to oversee a KLU Campus in your nation, as it requires dedication, time and effort. Our reward is hearing that your students are succeeding in their classwork and ministries.
We look forward to working with you to reach your nation for Christ. Kingdom come... God's will be done!
Please read requirements and technology needed to oversee a campus. You must be able to play videos on a computer or cell phone to class. If you meet this criteria, fill in the Mission Campus Application. Courses and materials are in English. Mission Curriculum will be made available to the director through the Student Portal. You may need speakers for your class to hear each lesson. The Mission Director Manual gives guidelines and materials to oversee a campus. Print materials, as needed.
*Kingdom Life University is a ministry under Action Evangelism, as a mission program: www.ActionEvangelism.org
DIRECTOR PROVIDES
A classroom and determines class schedule

A graduation and date

Printed Certificates
KINGDOM LIFE UNIVERSITY PROVIDES
Director's Manual and certificate template.

Access to the director of the Mission Curriculum online.
ACCREDITED DEGREE STUDIES (pay studies are offered online / optional)
The accredited degree program is offered online at KLUonline.com and managed by KLU Administration.
Each degree seeking student applies individually at KLUonline.com.

Each degree seeking student pays $49 (US dollars) application fee and set ups automated monthly tuition plan with PayPal using a credit card.

Each degree seeking student studies, take tests and receive grades online at KLUonline.com.

Each degree seeking student, upon completion of their study, orders and pays for their printed degree online
* KLU DOES NOT FUND CLASSROOMS, BUILDING PROGRAMS OR DIRECTOR SALARIES.
Mission Campus Application
Training for Remote Village Evangelism & Pastoral
Certificate & Diploma / No tests / Not-accredited