Mission Campus Application
BECOME A MISSION CAMPUS DIRECTOR
Host A Mission Campus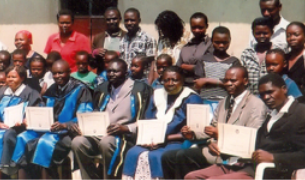 Is God is calling you to oversee a Campus to train and equip Nationals for remote village evangelism, church planting and pastoral work? Apply to become an International campus Director in your nation. Multiple Directors are appointed in each nation, to raise up as many laborers as possible for the Harvest.
KLU does not fund purchase of land, building programs, pay salaries, classroom rent, printing costs, room or board for students, graduation events or any other costs in operating a satellite campus. We are a faith based ministry.
Prayerfully consider your decision to oversee a KLU Campus in your nation, as it requires dedication, time and effort. Our reward is hearing that your students are succeedomg in their classwork and ministries.
We look forward to working with you to reach your nation for Christ. Kingdom come... God's will be done!
Please read requirements and technology needed to oversee a campus. If you meet this criteria, fill in the Mission Campus Application. Courses and materials and in English. Courses are large audio files and downloaded by Internet. Store on your computer to play to your students. If you have a gmail account, you can store files in your Drive. To play audios from Drive, open with Drive Tunes or Music Player for Google Drive. The Director's manual gives guidelines and materials to oversee a campus. Print materials, as needed.
*Kingdom Life University is a ministry under Action Evangelism, as a mission program: www.ActionEvangelism.org
Believe God has called you to oversee a Kingdom Life University remote campus in my nation

A strong desire to train and equip Nationals for remote village evangelism, church planting and discipleship

A mature Christian in good standing with a local church, able to oversee students

Doctrinal agreement

Suitable classroom for number of students enrolled

Email a good quality jpg face photo

Read KLU monthly e-newsletter

Email reports and updates, as needed

Required Annual Report notice will be sent in January for previous year



TECHNOLOGY TO PLAY AUDIO COURSES
Computer with speakers to play audios files to class

Internet service to download large audio files to your computer

Acces to printer to print paperwork and certificates / diplomas for graduation

Personal Internet Service capability to download audio files

Classroom suitable to handle class work

Pdf Reader to access materials (free Adobe Reader download on Internet)

Non-security email that does not require log in (e.i. Goggle or Yahoo)
DIRECTOR PROVIDES
A classroom and determines class schedule

A graduation and date

Printed Certificates
KINGDOM LIFE UNIVERSITY PROVIDES
Director's Manual with materials, forms and certificates

Audio courses emailed by Cloud service
DEGREE STUDIES (pay online studies - optional)
The accredited degree program is offered online at KLUonline.com and managed by KLU Administration. Each degree seeking student must have own email and Internet device for playing videos.
Each degree seeking student APPLY ONLINE individually at KLUonline.com.

Each degree seeding student pay $49 (US dollars) application fee and set up monthly tuition online using a credit card or Paypal.

Each degree seeking student studies, take tests and receive grades online at KLUonline.com.

Each degree seeking student, upon completion of studies, pay for their printed degree and notifies Director of completion of studies.



KLU MATERIALS, CERTFICATES AND DIPLOMAS
Upon approval, KLU Admin will email audio Bible courses and Directors Manual with course outlines, completion forms & certificates in PDF format to Director. You will be given temporary access to our Cloud service to download audio courses, using your cell phone.
We are a faith based ministry. These materials are sent at no cost to you, as a part of Action Evangelism mission program. It is a privilege to work with you to reach your nation. We simply ask that you not sell the materials for profit and that you use the materials with diligence and excellence... to the glory of God! Both certificate and diploma studies are non-degree programs and offered in a classroom setting.
All KLU Degree studies are online at KLUonline.com and administrated by KLU Admin.
* KLU DOES NOT FUND CLASSROOMS, BUILDING PROGRAMS OR DIRECTOR SALARIES.
Mission Campus Application
Training for Remote Village Evangelism & Pastoral
Certificate & Diploma / No tests / Not-accredited